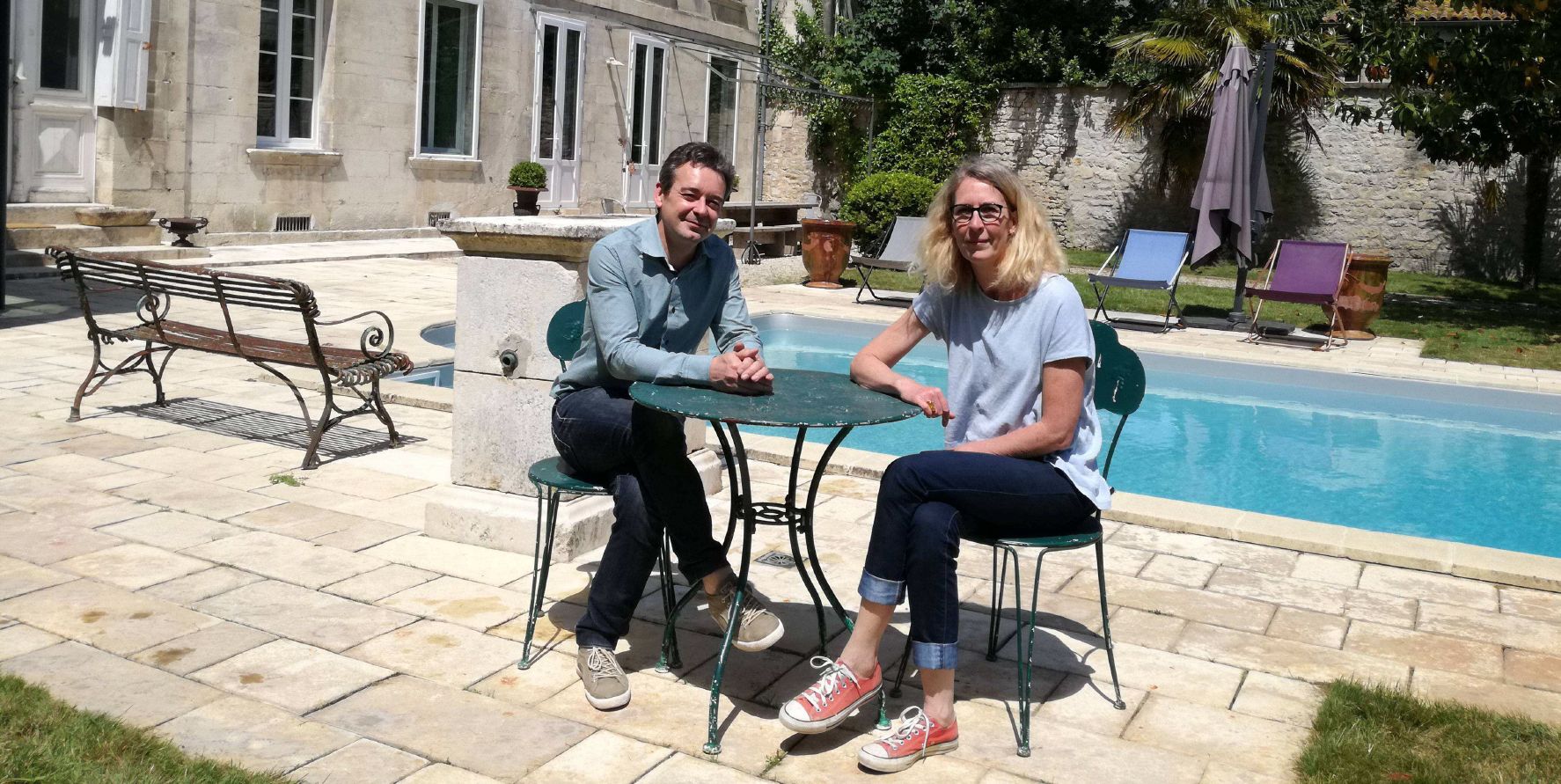 Pascal and Sandrine Gravier will open their home to those who will register for the visit "Private hotels of the nineteenth century", proposed by the museum Hèbre. KC PHOTOS
The former sous-préfecture becomes a guest house - SOUTH WEST newspaper
21 May 2018
Sandrine and Pascal Gravier have just opened the Esprit du 8, in a deco spirit, design flea market The old Rochefortais know that at 8, rue Jean-Jaurès was once the sub-prefecture, in front of the current (1 ).

Became a private house in the 80s, it was no longer accessible to the public. Today, the beautiful building of the early nineteenth is still private. But by doing her duty as a guest since the beginning of the month, she lifts the veil on its interior and its history, at least to its customers. Visit. The blazon of the city Flanked by the coat of arms of the city in front, the house can seem austere, with its regular alignment of windows and its very large entrance door. But the impression lasts only to the smiles of Sandrine and Pascal Gravier who welcome you. These quadras are the new owners of the place. They bought in 2016, even though they had already spotted the house in 2012. "She had caught our eye, but for us it was a dream. So we did not call back the owner.
But it seems that the n ° 8 of the street Jean-Jaurès waited for them during four years! The couple does not disembark in tourism since, during sixteen years, he held a beautiful guest house in Normandy. The reception, that knows it. "At home, people have to feel at home, it's a family home that should not scare despite its size", say Sandrine and Pascal Gravier who love to talk with their customers, but also advise them on this country Rochefortais that they adopted. In the building of 500 m2, which overlooks a large quiet garden with heated pool, they have created a chic and warm atmosphere. In a style that belongs to them. "We did not touch volumes that were perfectly suited to our business. Finally, our work has rhymed with decor, "says the duo, a flea marketer and collector of design. Designer space Each of the four rooms (and soon five) is named after a 20th century designer: Charlotte Perriand, Gae Aulenti, Florence Knoll and Eileen Gray. With the lamps and the signed furniture that goes with it.There are other great names in design: Bertoia, Christin, Gras and Guisset, not to mention Mies Van Der Rohe, Domecq or Cremer among others.
Sandrine and Pascal Gravier were able to transform the old sub-prefecture which already had charm, in a residence of comfort (Wifi, beds of 180x200, linen linen 100%, secure parking, breakfast fresh and local) and taste. Thanks to their sure eye, they turned a once-administrative building into an unparalleled home.
KHARINNE CHAROV
(1) This is not the first one, obviously located on rue Cochon-Duvivier. 8, rue Jean-Jaurès. Such. 06 79 43 92 77. Mail: contact@lespritdu8.com. Website: www.lespritdu8.com.
Documents liés
Voir l'article en PDF